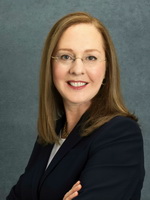 About Colleen Sinclair Prosser
Currently the owner and manager of SinclairProsser Law, LLC, Colleen steers her firm with both a guiding hand and direct involvement with the clients, bringing to the table a wealth of Estate Planning experience from many years spent at the helm of a busy law practice. Colleen is currently serving on the Board of Trustees for By Their Side, Lifelong Advocates for Marylanders with Developmental Disabilities. She formerly served on the Board of Governors of the American Academy of Estate Planning Attorneys in the past.
Experience
An established member of the American Academy of Estate Planning Attorneys, Colleen offers years of experience in estate preservation and transfer. A strong proponent of the living trust, she also focuses on wills, powers of attorney, living wills, probate, trust administration, prenuptial agreements, nursing home planning, and special needs planning. She strongly endorses long-term care insurance and, in certain cases, life insurance and some annuities as valuable estate preservation vehicles, and strives to assure the compatibility of her clients' estate plan and financial plan. Sensitive to the challenges presented by lifestyle and circumstance, Colleen addresses each situation with personal attention, wisdom, and skill.
Education
Colleen Sinclair Prosser received her Bachelor of Science degree with Academic Honors from University of Maryland, College Park, and earned a Juris Doctor degree from The Catholic University of America. She is an approved IRA distribution attorney under the guidance of Ed Slott—a nationally recognized IRA distribution expert—and a member of the Maryland and District of Columbia Bar. As a member of the American Academy of Estate Planning Attorneys she is required to meet 36 hours of continuing legal education per year. A strong believer that the estate plan and financial plan compliment each other; she provides ongoing continuing education classes to financial professionals to encourage a complete, comprehensive estate plan for her clients.
Personal
One of five children, Colleen was born in Washington, D.C. and is a lifetime resident of Maryland. She is the daughter of the late R. Ronald Sinclair, founder of SinclairProsser Law, LLC and executive member of the American Academy of Estate Planning Attorneys, and Maureen Mershon, partner of the Holiday Point Marina in Edgewater, Maryland. Ms. Prosser is married to award-winning artist Les Prosser, Jr. Colleen and Les are the proud parents of one son, Jake. They frequently camp in the surrounding mountain ranges and parks and especially enjoy the Adirondack Mountains of New York. Colleen also enjoys the Arts and has a fondness for British culture cultivated by her time as an exchange student in Europe.

BACK TO ATTORNEY AND STAFF INDEX